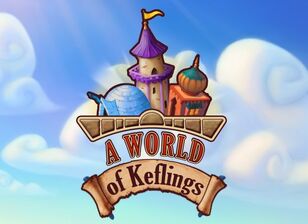 A World For Kelfings, is the sequel to 'A Kingdom for Keflings. It was developed by NinjaBee and released on the Xbox LIVE Arcade on December 22, 2010.
The single player portion of the game is very similar to the plotline of A Kingdom For Keflings. The player's Avatar is a giant who was frozen solid in the Ice Land. He is unfrozen by Keflings and instantly becomes their ruler. The player than travels all over the world to help out Keflings. The ultimate goal is to help all Kefling areas prosper.
The co-op gamemode is exactly the same as the single-player experience but allows for two or more players to conquer the Keflings and for the plot to move along faster.
Challenge mode is a very different mode. Here, weekly challenges are offerd by NinjaBee in which the player(s) can complete then to earn more FameStars.
Three editions of the game are available for purchase and download on three different systems.
Xbox LIVE Arcade
Edit
The Xbox LIVE Arcade (XBLA) Edition of the game was the main focus and most popular version of the game. Both single players and multiplayer game modes were included as well as a Challenge mode and Sharing. Aside from the core gameplay, three DLC packs were also released and by playing other Avatar FameStar games, players could get even more exclusive content such as Keflings, costumes, and items.
Game For Gold Promotion
Edit
From November 1 to November 15, 2013, A World For Keflings was released for free as part of Xbox LIVE's Games For Gold Promotion. This allowed the game to be downloaded and played for free which brought in new players and made the game more popular.
Community content is available under
CC-BY-SA
unless otherwise noted.